We are happy to announce that Vaptur™ was approved in one day and has now been added to the Apple App store.
Introductory price is $1.99 US
Final price will be $2.99 US
Vaptur ™ released April 7th, 2015 is a Patent Pending Video Recording App that allows you to "Record it after you see it".
"REVOLUTIONARY" is a big word….but we believe Vaptur will change the way people record videos since they can post a great clip seconds after they record with no editing. Use the delay screen to "Film the Perfect Shot Every Time – After You See It!"  No wasted space on your phone….just record what you want and post it!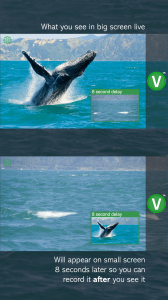 Vaptur is an App that basically allows you to see and film just the clip you need on your phone every time. The App has a built-in variable timed delay that allows you to go back in time and film what you just viewed (PIP technology allows the user to see the live screen and the delay screen simultaneously). Vaptur is available for the iPhone and we are currently working on the release for Android.
See more at Vaptur.com.
For additional information please contact us.